Bronte Creek Provincial Park
We have travelled past Bronte Creek numerous times over the past twenty odd years while driving the QEW. We had never visited the park. But over the past couple of years we have heard more and more about the opportunity for birding in the park. And this year based on the reports on ONTBIRDS of White-winged crossbills present and conversations with local birders that Long-eared Owls were in the park we thought it was time to hike Bronte Creek.
Lynda, Karamelle and I went for our hike on a clear cold day just prior to the big freeze in the middle of January. We arrived around 10am and left about 12:30pm. We covered a lot of ground but we still didn't get to see the whole park. We focused on the day use area and never got into the campground. Unfortunately, this may have cost us our owl sighting.
We parked in parking lot A. The stand of pine trees by the parking lot was one location where the Crossbills and in the past Long and Short-ear owls had been reported. When we arrived the parking lot was quiet. We decided to push on. We passed through the group picnic area past the Friends of Bronte Creek house. All along this walk there are stands of pine trees. Lynda and I were constantly craning our necks to the tops of the trees and then down the trunks hoping to see either crossbills or owls. We didn't, but our constant stopping and stumbling sure gave Karamelle something to stare at.
We continued onto the Lookout Ravine Trail. A very nice view of Bronte Creek (Twelve Mile Creek) is available from this trail. There is even a look-out platform for safe photo opportunities. The forest is a nice mix of deciduous and coniferous trees. We didn't see any birds along this trail but we could sure hear the Chickadees calling from the tree tops.
Just before we arrived at the intersection to the Logging Trail we came across a flythru bird feeder that someone had placed food into. Karamelle disturbed a Mourning Dove feeding on the ground below and the "dee-dee-dee-dee-dee" of the Black-capped Chickadees informed everyone we had arrived.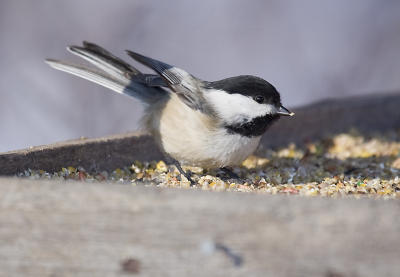 We spent some time enjoying and relaxing with the antics of the small flock of Chickadees going to and from the feeder and tree branches. Karamelle decided it was time to move on.
We continued along the Logging Trail and we saw a Hairy Woodpecker and a White-breasted Nuthatch. Something large then flew from the woods but no ID was possible. We then came across a gentleman cross country skiing who informed us a lady had been showing him a bird called a White-winged Crossbill. If we kept going we might still run into her and the birds. We kept going but we didn't find the lady nor the Crossbills.
The Logging Trail crossed a road that was going to take us down to the Spruce Lane Farmhouse. The road crossed some open fields and we thought this might be a good location to see hawks. We weren't disappointed. We saw two good sized Red-tailed Hawks. One was a mature adult, its tail was a brilliant reddish brown. Later we also observed a Sharp-shinned Hawk past the farmhouse.
On our return trip back towards the parking lot we followed the Maiden's Blush Trail loop. It was here that Karamelle found one of her favourite wild creatures. A group of three White-tailed Deer. At this point a Blue Jay made its presence known with some very loud raucous squawking.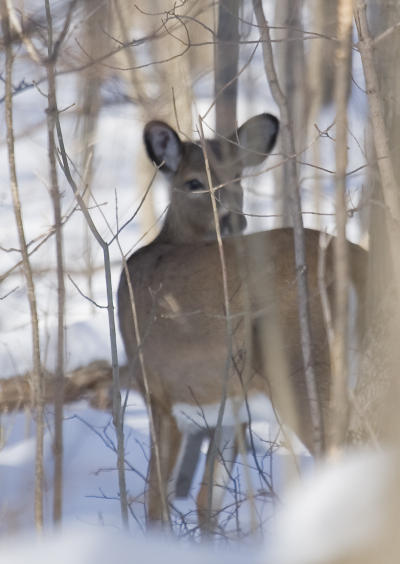 We retraced our steps along the Lookout Ravine Trail and returned to parking lot A. Standing almost right in front of our van were two people staring intently up and into the pine trees (Karamelle recognized that stance). They told us the Crossbills had been flying through about every half hour. We waited. We finally saw the White-winged Crossbills. Very briefly, but we saw a small flock of five. Well, at least we saw one of the two birds we were trying to find. We later found out the campground area can be a better location to find owls. Maybe on our next trip. Bronte is definitely worth a hike, we'll return, and by the way there is a fee, $14 per car for the day. After all it is a provincial park.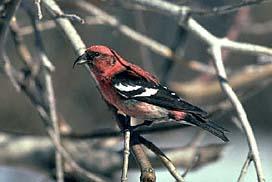 Happy Birding!