Carden Alvar
In this issue Birding in the City visited the near north-east of Toronto. We went to the Kirkfield area and enjoyed a great day of bird watching, observing nature and the local sights. Summer's on its way and finding an area not too distant (about 11/2 hours) that offers excellent birding, the opportunity to have a swim, relax and enjoy a picnic by the beach is what convinced us we needed to hit the road.
Carden Alvar has been designated an "Important Birding Area" by Birdlife International. Alvar habitat is globally threatened and the Carden Alvar is an excellent example of this rare habitat. In summary, Alvars are naturally open habitats with a thin/no soil covering over a rock base. Carden Alvar habitat is diverse consisting of alvar grasslands, alvar shrub land, treed or partly treed ridges and slopes, and riparian (the area between land and stream) wetlands. Biodiversity consists of at least 238 bird species, 450 plant species, 75 butterfly species and 67 dragonfly species. For more detail go to (http://www.natureconservancy.ca/site/PageServer?pagename=on_ncc_work_projects_cardenalvar1).
Lynda and I chose a June weekday to visit the Alvar and arrived at around 10:00am. A sign on McNamee Road just before Wylie Road provides some basic information about the Alvar. Now you turn onto Wylie Road and your birding trip is well under way.
Acouple of housekeeping details. Be aware that Poison Ivy is found all along the roadside. Be cautious of "leaves of three"! The road is quite narrow and it is difficult in places for cars to pass, but there are parking areas along the way that allow you to stop and walk.
We did not have to wait long for our first sighting. About fifty feet along we saw a black bird sitting on the wire fence with white on its wings and yellow patch on its head, a Bobolink.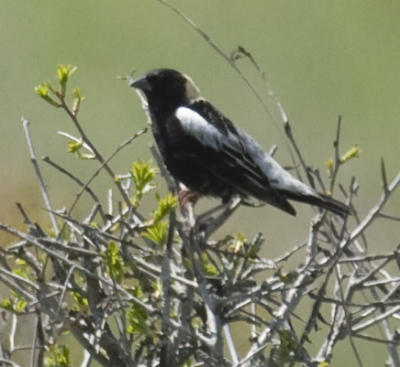 As we watched the Bobolink, motion in the grass beside the road a little further ahead caught our attention. A Savannah Sparrow. In our excitement we had stopped in the middle of the road and we realized we needed to find that first parking area. But before we could, a bird started its way across the road, long yellow legs, mottled brown body, yellow bill and long neck. Quick the Sibley Guide, an Upland Sandpiper. We need to get to a parking area. But prior to finding the parking area we had to stop again. An odd looking plump, short legged, long billed, mottled brown and white bird standing on one leg on the fence post. Back to Sibley and we now knew were looking at a Common Snipe.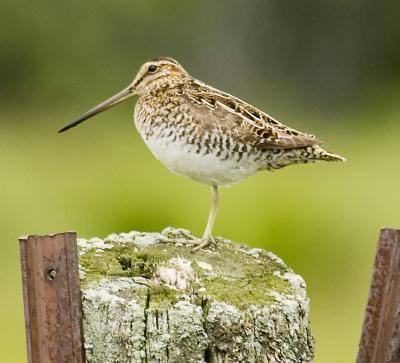 We were still sitting in the van at this point and the Snipe proved to be a cooperative photographic subject. The windows were rolled down so pictures were easily taken but when I opened the door the Snipe flew.
Take note, roll your windows down ahead of time and keep your optics and camera close at hand.
We continued to the first parking area. We now got out and walked. I don't want to give you the idea we had to get to a parking area because of the traffic, in fact we only saw three other cars on the road that day. It was nice and quiet. But walking gives you the opportunity to wander away from your car and not worry about other cars. As we walked the birds were easy to find. Eastern Kingbirds were common. But as we scanned the fields and trees beside the road other species were easily observed. Baltimore Orioles, Yellow Warblers, Tree Swallows, Goldfinch, Brown Thrashers, Turkey Vultures and other common species. Wildflowers were abundant along this stretch, and in general throughout the whole area, but it was a long this first section that we first saw Prairie Smoke.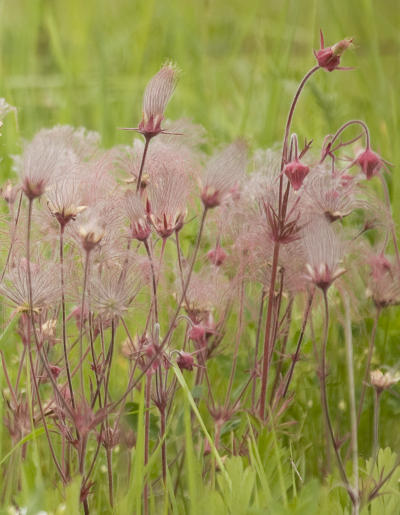 Back to the van and onto the next parking area. We didn't think the rest of the hike could measure up to an exciting start. We were wrong.
As we were getting out of our van, sitting on the fence was an Eastern Bluebird. Brilliant blue and rusty brown -gorgeous! Now at this point I should note that all along Wylie Road there are Bluebird/Swallow nesting boxes, and some are occupied. Up until this point we had seen nesting boxes occupied by Tree Swallows but in this location the Bluebird was resident. We stood and watched as the male and female went hunting for bugs for their young. We could actually see the green "caterpillars" dangling from their beaks upon their return. It was really neat! We had to drag ourselves away but we didn't want to stress the Bluebirds out by our continued presence.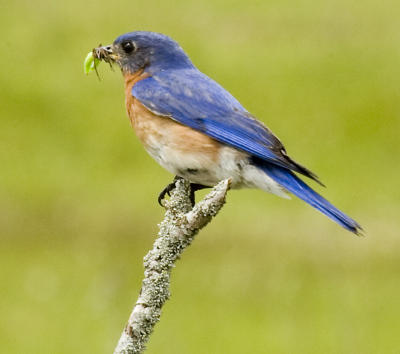 As we walked we came to a clear meadow with a large flat rock in the middle. Something was sitting on the rock. Lynda scanned the rock and quickly announced a "Meadowlark". I got to take a look and their he was in the classic Eastern Meadowlark pose, head tilted back, beak open calling out for all to hear.
Movement on the side of the road further ahead of us now had our attention. Busily tossing aside leaves was a Brown Thrasher. We decided it was time to push on. We wanted to get to the marsh area.
While in the van on the way to the marsh a bird was sighted perching on a tree branch. A quick stop, grab the binos and there was a Cedar Waxwing. We later saw a Cedar Waxwing taking a bath in a puddle on the road.
We parked prior to the marsh and went for a walk. A small brown bird was foraging on the roadside. A Song Sparrow. We continued to the marsh and crossed the small bridge. A new sighting! Not a bird but a turtle basking in the sun. A Painted Turtle.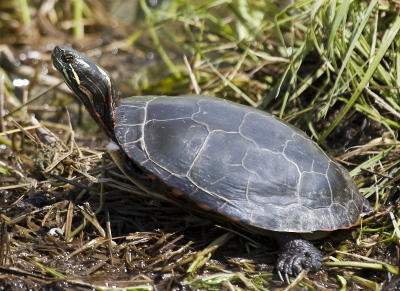 We continued but there were no new sightings until we returned to the bridge. There sitting on the fence was a Barn Swallow.
As we continued driving a commotion in a marshy area caught our attention. Three Upland Sandpipers were taking turns taking a bath. The water was flying. As they left the water it was amazing how quickly they blended in with the tall grasses. Next another Brown Thrasher sitting at the top of a tree quickly followed up by another Savannah Sparrow.
It was growing late into the day and we were still on Wylie Road. We planned one more stop. We stopped, we walked and I found some wildflowers to photograph. Wild Columbine, Indian Paintbrush, Bladder Campion and other wild flower made great subjects. But while I was occupied with the flora, Lynda was adding to our sightings list, an Eastern Towhee was sighted. I only saw its back as it flew. But returning to the Van we both watched a Purple Finch take a puddle bath. On the last stretch of Wylie Road we watched a Broad-winged Hawk preen while perched on tree limb above us.
At the end of Wylie Road you turn left on Alvar Road. Due to time constraints our hike was more of a drive now. We didn't see anything in this stretch, probably due to our pace. Alvar Road ends at Lake Dalrymple Road. You turn left. Along this stretch prior the resort store an active Osprey nest is easily visible at the side of the road. As we passed the resort we came across another Painted Turtle, this one crossing the road. We stopped and guided him carefully to the shoulder. Hopefully we were helping and not hindering.
Our last birding stop was at the Prairie Smoke Alvar Nature Reserve. You can park and take a two km hike. Here we saw more Bobolink and Cedar Waxwings. We hiked until we came across another active Osprey nest. This nest was built on an old windmill. We didn't stay long, this Osprey was very annoyed by our presence.
Returning to our van we then continued to Kirkfield Road 6 and turned left. We then continued to Road 33 or Centennial Parkway and crossed Canal Lake. Osprey platforms can be seen along this stretch. You then come across Hwy 48, turning right for Toronto or left for Kirkfield.
We headed back to Toronto but on the way stopped and explored Balsam Lake and Sibbald Point Provincial Parks. After a great day of birding either park offers a day use area for a picnic and a refreshing swim.
Carden Alvar is unique for birding and the area offers a lot of additional day trip opportunities. Lynda and I really enjoyed the entire day. We saw thirty-three different bird species. It is well worth the drive. An actual birding itinerary can be printed from the OFO website at http://www.ofo.ca/reportsandarticles/cardenalvar.php.
Directions to Carden Alvar
(From the GTA)
401East (or Don Valley); 404 North;
Davis Drive (east/right); Hwy 48 (north/left)
Hwy 12 (north/left); Durham Road 48 (east/right)
Into Kirkfield and look for the signs to the lift locks, Kirkfield Road 6 (north/left);
McNamee Road (east/right); Wylie Road (north/left)
Happy Birding!