Mountsberg Conservation Area is a 472 hectare park located about forty minutes west of the city in the Campbellville area. There are sixteen km of nature trails crossing various habitats including, forest, forest edge, meadow and pond.
When our kids were younger (come to think of it so were we), Mountsberg was always good for four to five visits through spring and summer. Lynda and I had not hiked Mountsberg in many years. So on Easter Sunday we decided to make a return visit to a park that holds many fond memories.
Driving to Mountsberg is fairly simple. Take the 401 west to Guelph Line South, turn right (west) at Campbellville Road and then right (north) on Milborough Line. And yes, there are admission fees. Ranging from $6.50, to free. Details can be found on the Conservation Halton website (http://www.conservationhalton.on.ca/index.cfm). Don't let the fees discourage you, there is a lot to do at this park.
Of course our main focus was birding and a nature hike. You have a choice of five different hikes. We chose the Lakeshore Lookout Trail (blue trail). Prior to your visit you can download a trail map and brochure at, http://www.conservationhalton.on.ca/uploads/Maps/Mountsb%20trail%20map.pdf.
The blue trail starts you off with a smile. Swallowville is at the start of this trail. Watching these colourful birds dive, dart, chase and then land on their nesting boxes is natures version of airal aerobatics.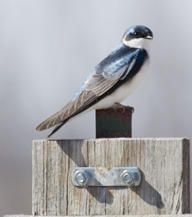 During our visit the males were staking out their preferred nesting boxes, we didn't see any females. Once they start nesting our kids were always amazed that there was a face peaking out of the nesting box hole.
Tear yourself away from this enjoyable spectacle and continue the trail and you will come to a look-out tower. Although not shown on the map you need to take a slight jog to the left, the trail takes you closer to the reservoir and then to the tower. Its definitely worth the climb up to the observation platform, it's not a high climb but it does give you a good view of the reservoir and surrounding tree-tops.
We were able to see five Common Loons, numerous Bufflehead and a number of very loud Canada Geese. In the tree-tops around us there were small quick moving non-descript birds flitting from branch to branch. Based on the plain breast and wings, probably a Vireo but possibly a Warbler based on their quick movements. In the bullrushes and shoreline trees the Red-winged Blackbirds were loud and in constant motion.
Returning to the trail we were pleasantly surprised with a new flying but flighty sighting, a butterfly. This sighting at least stayed close to the ground and landed long enough for us to get a good look and photo. The Mourning Cloak butterfly is one of the earliest butterflies to appear in the spring and definitely a reminder of the warm weather to come.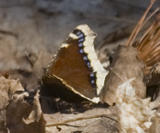 We continued to follow the trail and it took us into a marshy/meadow area. In this area the Pussy Willow was in full flower and the bees were taking full advantage of this early flower. We actually saw a Yellow Bumblebee and we believe a Lasioglossum or "sweet bee".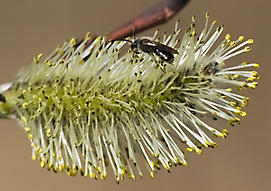 This area was quite wet and paying attention to where we placed our feet was critical in keeping our feet dry. This is also the area where we heard Chickadees, Blue Jays, American Crows and frogs. Trying to see these birds and amphibians and walk was interesting, Lynda ended up with a soaker.
The trail continues back into the wood and we were treated to the tree trunk meandering of a Red-breasted Nuthatch. We reached the second look-out tower only to find out it is not accessible.
The return trip brought us to the Crows. A murder of six were scattered among the trees beside the trail. Each time we walked towards the frog chorus it got quiet, we think they were Spring Peepers.
At this point our return hike was rather uneventful, typical of an April hike. We're too early for a lot of major migratory bird sightings, but the day was beautiful so when we got back to the start of the blue trail we ventured to the start of the orange trail. It starts off with a bridge through a marshy area. Again we heard the frogs, couldn't see them but we were visited by a pair of Black-capped Chickadees. There is also a Wood Duck nesting box placed to the side of the bridge.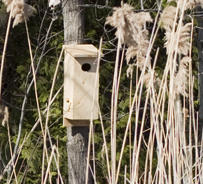 We then followed the Sugar Bush trail and we finally got to see the singing frogs. A little swampy area close to the trail was full of song and little bodies poking out of the water.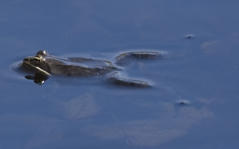 As May approaches the sightings at Mountsberg will increase. But in the meantime the Raptor Centre is worth a visit in itself. There is also an excellent visitor centre and play barn for the kids. You can get complete details of the parks activities at http://www.conservationhalton.on.ca/ShowCategory.cfm?subCatID=1088.
Happy Birding!