Smythe Park
Smythe Park is located on the east side of Scarlett Road, south of Eglinton and north of St. Clair. Smythe Park is handy for a quick walk in the morning, a lunch break or after dinner stroll. Lynda and I had known of the park but it was not until Angie and Rob (friends, birding companions and customers) suggested the park could make a good Birding In The City hike.
Lynda and I were supposed to go on this hike together but I ended up going solo. The morning of our hike corresponded to the day of our daughters grade 10 science exam. Lynda bravely volunteered to stay home and help Sam with final prep work, I got out quick.
When I first arrived at the park I was a little bit skeptical of its birding potential. There didn't seem to be much in the way of trails (there actually isn't) but there sure were a lot of birds calling. Well, Angie and Rob recommended it and I trust their judgement.
I parked and then noticed this sign. I didn't know that Black Creek ran through this park and nor did I know that this area was part of an environmental project.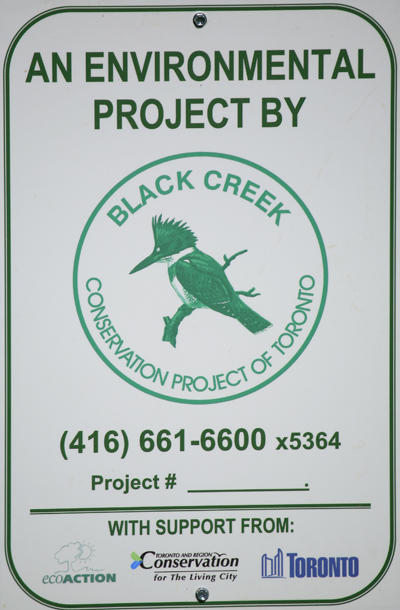 I parked west of the swimming pool and started by walking west. I walked by a pond on the south side of the road that was very active. At least a couple of families of Canada Geese were camping out along the shore. They may be messy but the goslings are sure cute! Perched on top of a dead tree was an Eastern Kingbird and within a couple of minutes a Yellow Warbler landed on a branch, looked at me and quickly took off again. I thought, WOW, that's a good start.
I continued west until I came to a bridge that spanned the pond and took you over to a hill into the woods. I climbed the hill, looked to my right and there at the bottom of the hill in another pond was a Black- crowned Night-Heron perched on a log. I took the trail to the left and it took me through a wooded area that was uneventful. The trail came out by the pool. I headed back west again but this time I walked on the north side of the road.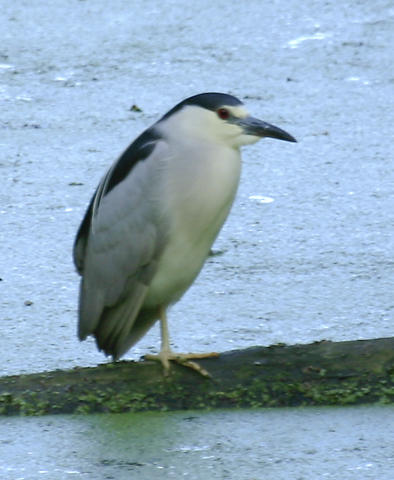 On the north side there is a series of small ponds, a green space and then Black Creek runs through the culvert. As I was looking across the pond the resident beaver calmly swam by with a branch in its mouth. That was neat. Along the shore of the pond there were some great patches of Milkweed just starting to bloom. I love the smell of Milkweed flowers.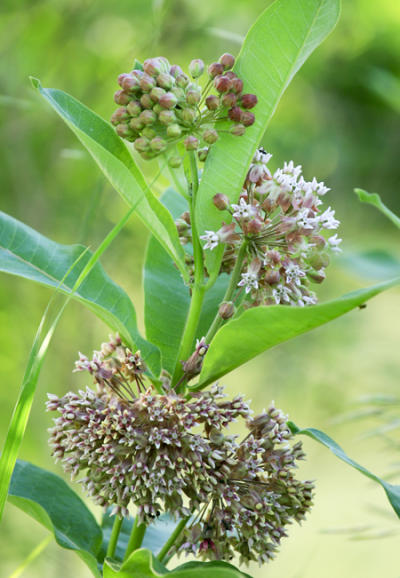 I followed the ponds to the end where a couple of Goldfinch thought it was fun to buzz my head. It sounded like they were laughing at me as they flew away.
I crossed back to the south side of the road to check another pond, on this one a female Wood Duck was shyly cruising with three ducklings. Then the familiar rap-rap-rap, on a dead tree a Hairy Woodpecker was busily drilling holes. She wasn't shy at all and posed very nicely.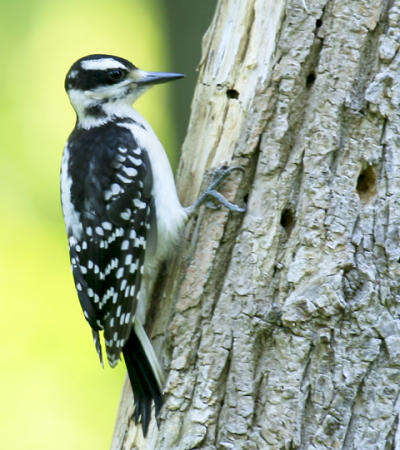 I continued past the first pond (the geese were now napping) and walked along the Black Creek culvert. On the north side of the creek was a series of big old Willow trees and every so often flashes of orange. As I got closer the activity became clear, there were a lot of Baltimore Orioles in the trees. I counted eight orioles at one point flitting in and out of the branches.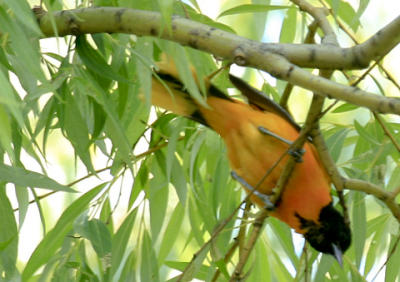 I don't know what this park was like before the environmental project but it is now a good park for a nature stroll. Thanks for the good birding tip Angie and Rob.
Happy Birding!