A thirty minute drive east into Whitby will get you to the Lynde Shores Conservation Area, which includes Cranberry Marsh.The conserv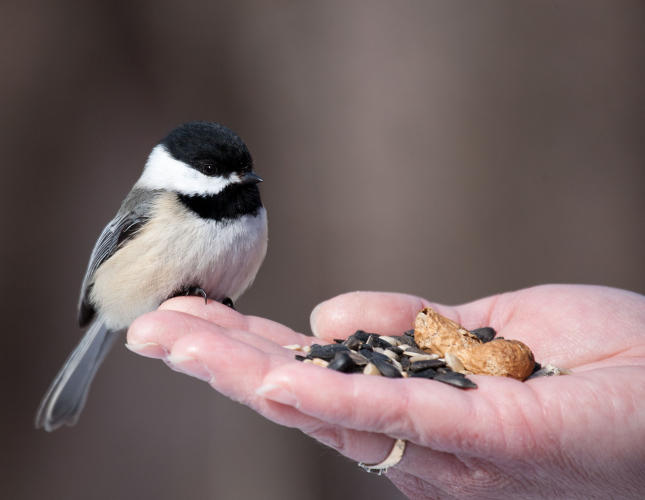 at
ion area is located right on Lake Ontario.
Lynda and I started our hike by parking on Halls Road in the second parking lot on the left. As you walk down this trail you will get a chance to handfeed the chickadees. Do not forget to bring your birdseed! These guys will buzz you if you don't seem prepared to stop. Lynda and I both had the opportunity to feed the chickadees. Handfeeding a chickadee or any other bird is a thrill, this small wild animal is trusting you with one of its basic needs, food. It's hard to get enough of this feeling but you do have to press on, there will be other opportunities. A short walk down the trail takes you to a "T" junction. To the right, Lake Ontario and to the left, Cranberry Marsh.
We went to the marsh. There is a platform here that gives you an elevated view over the marsh. Prior to the platform on your left is a small clearing that someone has left a nice tray feeder for the birds. It's a nice open spot with a good woodsy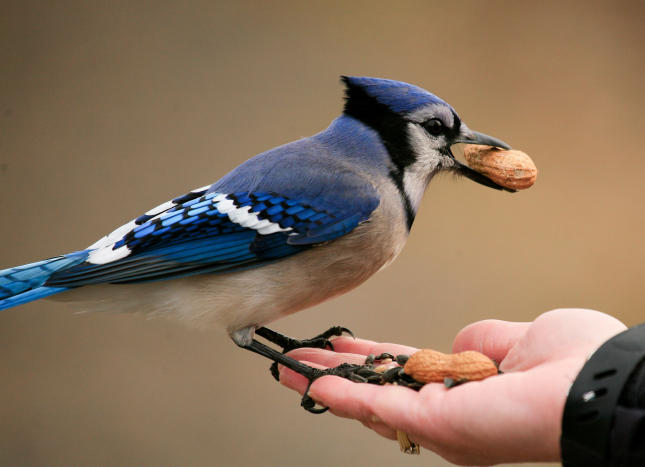 background for some pictures. Before we got to the platform another group
(same group?)of chickadees made their presence known. Out came the seed, out went our hands, the chickadees landed and again that "wow" feeling. But now we noticed in the trees around us not only were the red-wings and grackles checking out what we had to offer but there were a couple of blue jays. I had some in-shell roasted peanuts in my pocket, I placed a few in Lynda's hand, stepped back and focused my camera.
The blue jay landed, a little more cautious than the chickadees but Lynda and I both had blue jays land on our hands for the peanuts. This was a "wow" plus moment.
Proceeding onto the platform we were able to see that in amongst the dried bull rushes there were pairs of Canada geese staking out nesting territory and on the marsh we could see mute swans and what we thought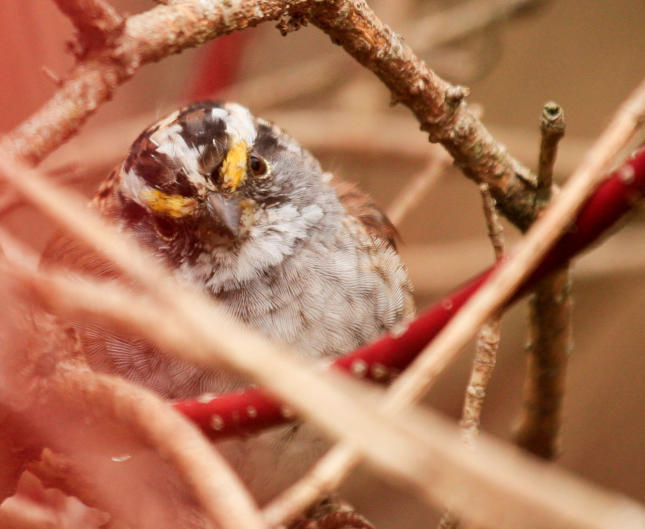 might be buffle head. If you own a spotting scope you can definitely make good use of it at Lynde shores. There are numerous convenient locations to watch water birds where binoculars just don't meet the needs.
We left the platform and headed down to the lake. Swimming in the very choppy water was a red breasted merganser. As we headed back up the trail a few small birds were hopping around in a large tree to our left, there were four yellow-crowned kinglets darting about amongst the small branches. As we looked closer we noticed a small face peering out at us from a tangled group of branches. A very still white-throated sparrow was watching us with great intensity and curiosity.
We started to follow the trail back to the car when all of a sudden any bird that was in the open took off like a shot to the trees, we looked up and there coming over the tree tops was a raptor. Probably a coopers hawk. Just before we left a male cardinal in his v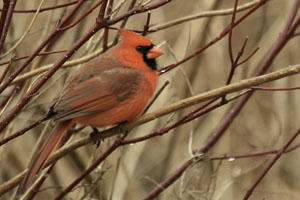 ery gaudy breeding red posed quite nicely for some pictures.
We stopped at th
e second platform on Halls Road and saw red-wings balancing on bull rushes and water fowl that were too far off to view. We drove back down Halls Road, turned righ
t at Victoria and then down to the Lynde Shores parking lot on our right.There is a slight fee to visit this area, a two dollar minimum (for two hours) to a max of five dollars, it is worth the fee.
The conservation area has a nice boardwalk that takes you to a viewing platform overlooking the marsh area, a bird feeding trail (very popular with kids, young and old) and a trail to a second platform overlooking another area of the marsh and in this field are numerous osprey platforms.
Lynda and I started by walking the boardwalk to the Lynde Creek Marsh viewing platform to try and get a better look at the water birds. We did get closer looks at mute and trumpeter swan, mallard and buffle head ducks. Watching the swans in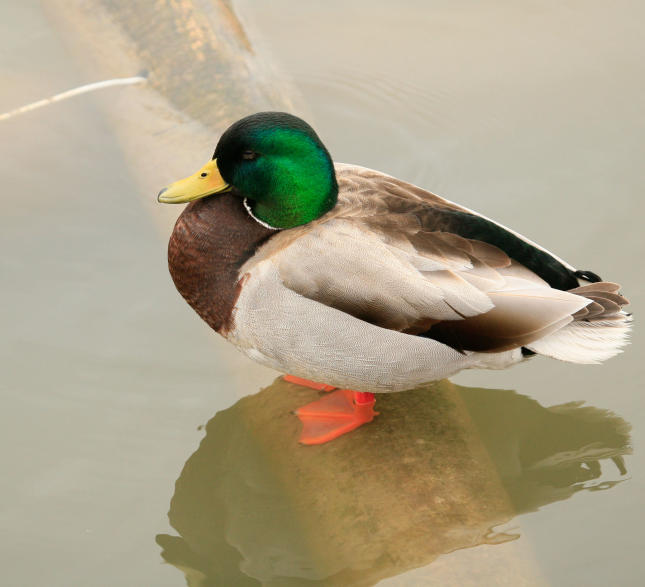 flight is quite a sight and their landings can be rather dramatic.
We left the boardwalk
to continue our hike along the Chickadee Trail, a bird feeding/viewing trail. There are bird feeders along the trail and wood posts with a picture of a chickadee. The chickadee posts mark the location where
hand feeding the birds is most likely to occur.
Along this trail we had numerous opportunities to hand feed the chickadees and on a previous visit it was along this trail Lynda had a white-breasted nuthatch come to her hand an
d I had a downy woodpecker perched on my hand. Hand feeding the birds never gets old.
This is a looped trail, but at about half way along this trail you can take a secondary trail that takes you to
two elevated platforms with a view of Cranberry Marsh. Lynda and I only went to the first
platform, the second one (according to the trail guide) is closer to the marsh. It is the trail to the first platform that takes you past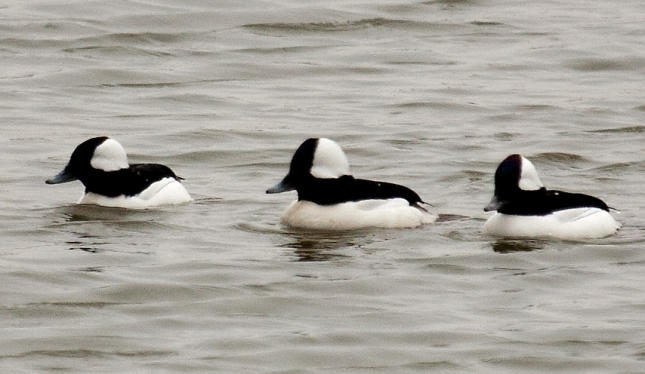 the osprey platforms. It was along this section of the trail that we saw a turkey vulture, a mixture o
f American tree and song sparrows, three crows and numerous chickadees.
As time was becoming an issue we retraced our steps back to the Chickadee trail, hand fed some more chickadees on our way out (it really is a great feeling) and headed home.
We have hiked Lynde Shores in the winter and now early spring. The two trips were excellent. We are definitely planning some future trips with spotting scope in hand and we may return in July with our canoe. There is a canoe launch that is open from July 15th to September 15th. A highly recommended hiking location. You can get further info and download a trail map from the LyndeShores website.
Happy Birding!