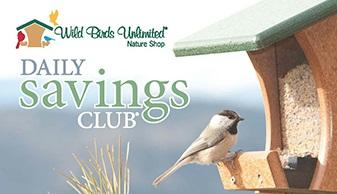 You Made the Right Choice with the
Daily Savings Club®
As a member of the DSC, you receive a $10 Bird Buck every time you spend $200 or more. So not only do you save every day on the Best Bird Food in Town, but you also get money back that can be used on anything in the store.
Stop by the store to see what's new with nature and to earn more Bird Bucks.
You can receive our BirdTracks Newsletter via email. Click on the link below to sign-up. Please note your privacy is very important to us and your email will not shared with any other parties.