Our Flavours of Nova Scotia Honey Spreads are a proud family tradition. Made in small quantities; It's fresh and always made with the very best ingredients available. Put these delicious honey spreads on toast, yogurt, ice cream, in your smoothies, in your tea, mix it with a little olive oil and make a delicious salad dressing, use it as a glaze or marinate on chicken, fish or shrimp.
10 Reasons to include Honey in your Daily Diet:
Helps prevent cancer and heart disease
Reduces ulcers & other gastrointestinal disorders
Anti-bacterial & anti-fungal
Increases athletic performance
Reduces cough & throat irritation
Balances the 5 elements
Helps regulate blood sugar
Heals wounds & burns
Is a probiotic
Helps improve skin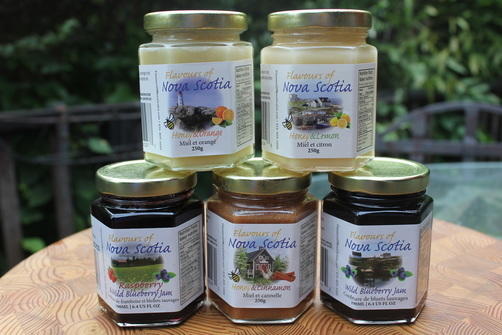 Recipe Idea
Flavours of Nova Scotia Honey and Almond Baked Brie with Fresh Figs
​​Serves 4-8

A quick and delicious appetizer for any holiday gathering. This would also make a wonderful hostess or holiday gift. Simply package all of the ingredients into a festive box or basket along with a jar of Flavours of Nova Scotia Honey and Almond spread and a baguette or package of crackers. Make sure to also include a copy of this recipe!

Ingredients
​1 450 gram round wheel of brie
3 Tbs. Flavours of Nova Scotia Honey and Almond Spread
1/4 cup slivered almonds, toasted at 350 F for 8-10 mins
2 whole fresh figs, cut into small pieces
Baguette or crackers for serving

Directions
Preheat oven to 350 F.
Unwrap Brie and put onto a parchment covered cookie sheet.
Microwave honey spread for 10 seconds and stir.
Add toasted almonds and figs and stir again.
Spoon over Brie and bake for 10 to 15 mins or until cheese has melted.
Serve with baguette or crackers.

Switch it up! Substitute with Flavours of Nova Scotia Honey and Ginger, or Flavours of Nova Scotia Creamed Honey.
Look for more delicious recipe ideas on the Flavours of Nova Scotia website.
Wild Birds Unlimited Toronto Email
If you would like to receive our exclusive WBU Toronto emails providing you with information on store events, sales and informative bird and nature related information sign up and receive our email - WBU Toronto Email.