LOOPS & LATTES HIKING GUIDES
NEAR-URBAN HIKING MADE EASY
By Nicola Ross
What's Inside
Not just books, these essential pieces of hiking equipment, keep you on track and suggest places to follow up your hike with lunch, ice cream or a frothy latte.
Loops & Lattes Hiking Guides describe some 140 loop routes that will appeal to casual walkers as well as seasoned hikers. The loops all begin and conveniently end at the same location so no need to drop a car or retrace one's footsteps.
Ranging in length from about 3 kilometres to over 25 kilometres, each loop route is accompanied by a detailed map, precise directions, loads of colour photos, a smattering of local lore and great ideas about where to get lunch, a snack or a creamy latte.
Cost per book - $29.95.To order please call the store - 416-233-3558 or email [email protected]
Caledon
Caledon features the picturesque Forks of the Credit, the Devil's Pulpit, Palgrave, Belfountain, the Cheltenham Badlands and more. Cliffs, rivers, moraines and small villages, Caledon has it all.
Halton
Halton Region stretches north from Oakville and Burlington, up the cliffs of the Niagara Escarpment near Campbellville, Milton, Acton, Georgetown and Glen Williams and into the rural areas just across the border near Eden Mills, Rockwood, Erin and Terra Cotta.
Dufferin
Dufferin is the high county that extends from Orangeville into the Hockley Valley, Mono Cliffs Park and the hills of Mulmur. More remote, Dufferin's deeply incised hills offer some of the best hiking in Southern Ontario.
Hamilton and Brant County
Hamilton and Brant County offer hikes to dozens of waterfalls and a whole lot more. There's picturesque Paris, the Six Nations First Nation, the Royal Botanical Gardens, the Grand River and some of the most beautiful sections of the Niagara Escarpment.
Waterloo, Wellington & Guelph
Waterloo, Wellington & Guelph offer culturally rich hikes in an area where Octoberfest competes with horse-drawn buggies for your attention. Its largely flat trails cross rich agricultural land and follow pastoral rivers. You'll pass through historic towns.
Collingwood, the Blue Mountains & Beaver Valley
Collingwood, the Blue Mountains & Beaver Valley combine the mighty Niagara Escarpment's loftiest heights with a plethora of robust rivers that drain into the expansive blue of Georgian Bay. Villages dot the countryside, while larger towns offer every imaginable après-hiking experience. This is perfect hiking country.
The map below shows the geographic coverage provided by each book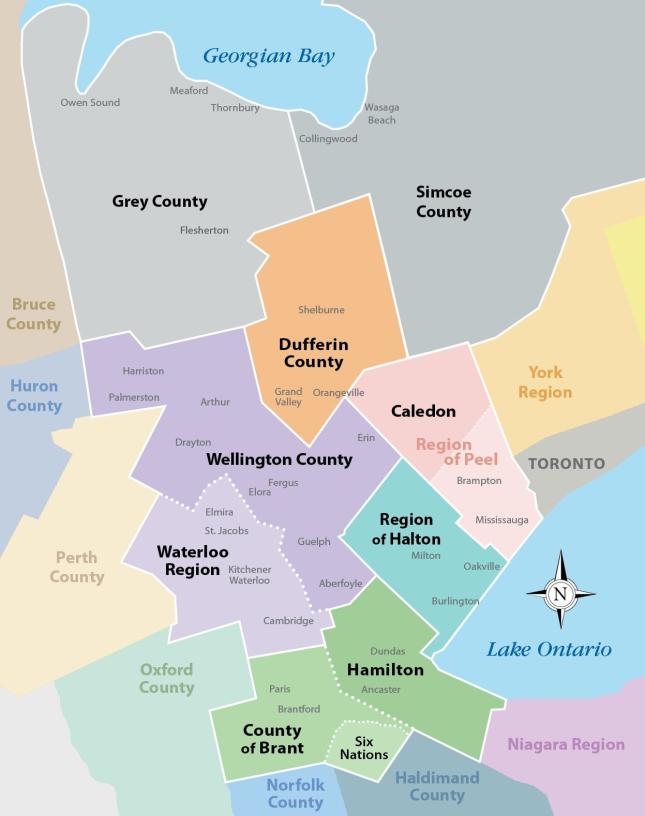 Wild Birds Unlimited Toronto Email
If you would like to receive our exclusive WBU Toronto emails providing you with information on store events, sales and informative bird and nature related information sign up and receive our email - WBU Toronto Email.