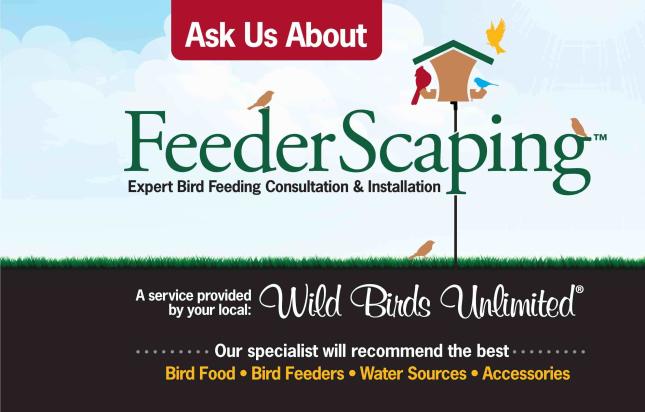 Wild Birds Unlimited in Toronto is now offering FeederScaping™

Whether you are just starting the wonderful bird feeding hobby or want to improve your current bird feeding experience, our new fee-based FeederScaping™ services will help you maximize your enjoyment of feeding and observing birds.

You may have already discovered winter bird feeding can create some unique seasonal challenges. It can be very cold and hard on your hands when trying to fill the feeder, a slippery icy walk to the feeder can make you re-consider filling the now empty bird feeder and when the snow hits, trudging through the snow can be a challenge. But during the bleak gray days of winter the activity, colour and sound of the birds can make the day much more enjoyable. If you don't want to give up the fun that feeding your birds brings to your day we can help you customize a winter feeding program that meets your needs.

Our Certified Bird Feeding Specialist™ will come to your home, evaluate your yard and help you create a plan to attract the widest variety of beautiful songbirds. Our specialist will also provide expert advice to keep squirrels, raccoons and other critters away from your feeders.

Bring more joy into your life by using our Certified Bird Feeding Specialist for trusted local advice and FeederScaping Services.

To schedule your FeederScaping appointment, call us at 416-233-3558.
Wild Birds Unlimited Toronto Email
If you would like to receive our exclusive WBU Toronto emails providing you with information on store events, sales and informative bird and nature related information sign up and receive our email - WBU Toronto Email.