Ruby-throated Hummingbirds and Baltimore Orioles Are In The GTA
Ruby-throated Hummingbird
The opportunity to see hummingbirds through-out their nesting season is great! Living in local urban areas such as Caledon, Bolton and Halton Hills gives you that wonderful opportunity. And we are always jealous (but thrilled to hear) of the great hummingbird stories from customers who spend time in The Kawarthas, Muskokas and Haliburton Highlands. In the GTA most of us have to be happy with a lucky glimpse in the spring (May-June) or in the fall (August-September) but based on customer sightings reported to us in since 2012 there are some summer GTA hotspots that have all summer success with hummingbirds. In 2020 nesting hotspots included:
Etobicoke around Centennial Park and south of The Queensway along the Etobicoke Creek green space
Neighbourhoods along the Toronto Lakeshore
Mississauga along the Credit River green space in particular around the Riverwood Conservancy and Erindale Park
Brampton in the Heart Lake area
Sometimes just a lucky glimpse or the jewels of summer are with you throughout the season, it is always as a thrill to see these amazing diminutive creatures.
If a hummingbird/s were visiting your hummingbird feeder last year use the same location, hummingbirds have a great memory,
A study conducted at University of Lethbridge in Alberta revealed
"The birds can remember where every flower in their territory is and how long it takes to refill with nectar after they have fed. They also remember year to year where each feeder is, both at home and along a migration path."
Feeders should be placed in shaded areas to help slow down the fermentation of the nectar
The feeder should be within 10 – 15 feet of cover and a tall tree
Hummingbirds will perch high in the tree to check the area out, to ensure their safety and to keep an eye on the food source
Cover is required close by for a quick exit if needed
If outdoor cats are a possibility hang the feeder 5 feet or higher with no plantings below
If outdoor cats are not an issue lower is OK and amongst native flowering plants can work very well
Hummingbird feeders attached directly to the window or hung off a window can work very well in some areas
In high hummingbird traffic areas try to keep multiple feeders located out of sight of each other. Hummingbirds can be very territorial and vigorously protect a prized food source. So like the old saying, "Out of sight out of mind"
To keep an eye on the movement north of our Ruby-throated Hummingbird check out Hummingbird Migration Map for the latest sightings.
We hope you will be calling us this year and exclaiming, "I saw a hummingbird…I did…I did!!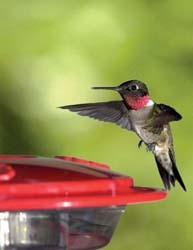 Baltimore Orioles
Baltimore Orioles have adapted very well to nesting in the GTA. When we first owned the store 20 years ago, Baltimore Oriole sightings were as rare as Ruby-throated Hummingbird sightings. Over the last five years migration sightings of orioles has become a regular occurrence but during this timeframe nesting sightings (we define oriole nesting sightings as a sighting that takes place mid June through July) have increased every year. The sightings are not just in specific pockets of the GTA but from many GTA neighbourhoods.
If you have tried for hummingbirds in the past with no success but you would still like a beautiful colourful migratory bird to visit your backyard you should definitely try to attract the Baltimore Oriole.
Follow the following process to attract orioles to your yard:
The easiest and least expensive way to start attracting orioles is to simply place oranges cut in half, cut side up (peel down) in various locations in your yard. Stake them on ends of branches, in the crook of a tree limb etc.
Orioles are attracted to the orange color and they love the sweet juice found in an orange. If you see the flesh of the orange has been poked at this is a sign the orioles have visited
The next step is to add at least one of the three following food options:

BirdBerry Jelly - BirdBerry Jelly is an all-natural blend of grapes and blackberries specially formulated to attract orioles, catbirds and other fruit-loving birds
Nectar - see the details below on how to make the nectar for orioles (it is the same nectar we provide hummingbirds
Live mealworms - this one can be the game breaker that ensures on going summer activity from orioles in your yard
To keep an eye on the movement north of our Baltimore Orioles check out Oriole Migration Map for the latest sightings.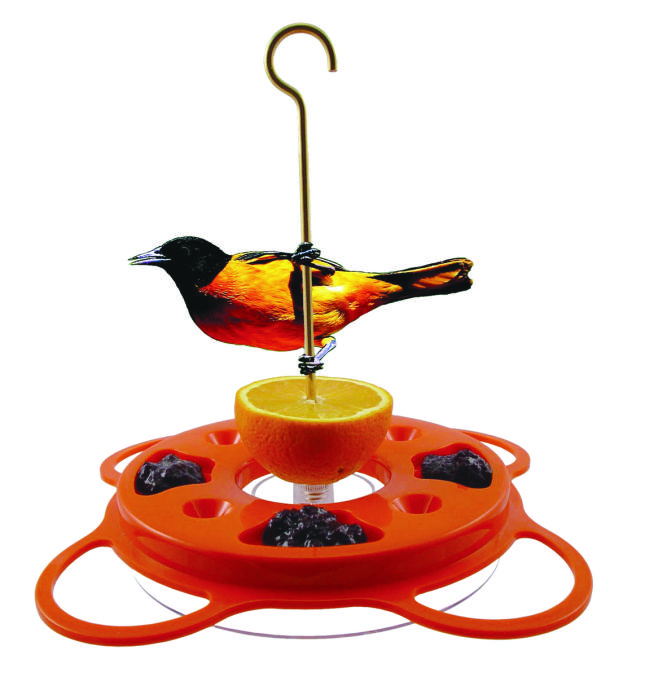 Nectar for Hummingbirds and Orioles
Nectar formula – 4 parts water to 1 part white table sugar. This ratio is the closest to the chemical make-up of naturally occurring nectar
Boil the water and add the sugar. Boiling helps dissolve the sugar and if you are unsure of the quality of the water (possible bacteria in the water), boiling will sterilize the water and reduce the potential fermentation of the nectar (cloudy nectar). In the GTA boiling the water will also help remove much of the chlorine
Do not use red food dye, honey or brown sugar
Commercially sold fine grind white cane sugar (such as WBU Hummingbird/Oriole Nectar) is another excellent choice
Nectar Change Guideline
Temperature…...............Change nectar after
ºC ºF
22-24 (71-75).................................6 days
24-27 (76-80).................................5 days
27-29 (81-85).................................4 days
29-31 (85-88).................................3 days
31-33 (89-92).................................2 days
34+ (93+)....................................change daily
Or whenever the nectar appears cloudy, often this is a sign of bacterial growth in the nectar
Cleaning your nectar feeder
Plastic feeders or parts - do not use soap to clean the feeder/parts. Studies have shown the plastic can absorb the taste of the plastic and the hummingbirds often avoid these feeders
Just rinse the feeder/parts with water, if cleaning is needed use vinegar or for serious cleaning use bleach and in each case thoroughly rinse the feeder
Glass/metal feeders or parts – rinse with water but if cleaning is required the use of soap, vinegar or bleach is acceptable. Rinse thoroughly
Feeder Placement
Wild Birds Unlimited Toronto Email
If you would like to receive our exclusive WBU Toronto emails providing you with information on store events, sales and informative bird and nature related information sign up and receive our email - WBU Toronto Email.
---