5468 Dundas Street West
Toronto, ON M9B 6E3
Across from the Swiss Chalet

(416) 233-3558
Serving You Today Until 6:00 pm
| | |
| --- | --- |
| Monday | 10:00 am - 6:00 pm |
| Tuesday | 10:00 am - 6:00 pm |
| Wednesday | 10:00 am - 6:00 pm |
| Thursday | 10:00 am - 6:00 pm |
| Friday | 10:00 am - 6:00 pm |
| Saturday | 10:00 am - 5:00 pm |
| Sunday | Closed |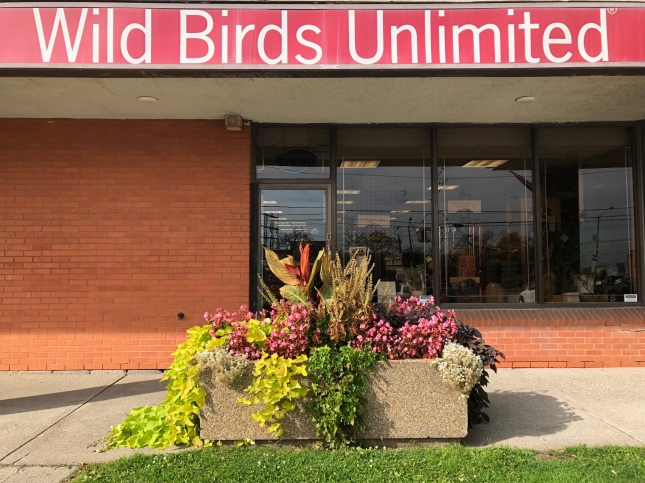 Jim & Lynda Mackiewicz Franchise Store Owners
View Our Store Site

Covid-19 Update April 2021
We are now closed for in-store shopping based on the Provincial mandate to help stop the spread of Covid-19
We are offering other methods of shopping. During this continued time of stress we all need a way to stop, relax and find some joy. Watching your birds flit thru the yard, stop at a feeder for a snack, investigate a possible nesting location, take a sip of water or even a bath can bring a relaxing moment to your day and a smile to your face. We want to support this personal daily smile therapy and continue to bring joy to your day by offering the shopping methods detailed below.
On-Line Shopping
You can shop on-line at MyWBUToronto and request curb-side pick-up or home deliver
Home Delivery via Courier - Orders over $99 receive free shipping within the GTA and many other areas. Some areas will incur a shipping cost, this will be indicated prior to completing your purchase.
Curb-side Pick-up - This will be pick-up at curbside only. No customers will be allowed in the store. The store doors will be locked but when you arrive at the store please call us (416-233-3558) and we will place your order outside the door. You can then leave your car and load your order into your vehicle. Or if you need help loading your vehicle, please have your trunk open and we will place the product in your trunk. You will be expected to close the trunk. Please note – we will not place product into the back or front seat of your vehicle.
Curb-side Pick-up is available Monday to Friday 10 am to 6 pm; Saturday 10 am to 5 pm
Phone Orders
If you do not have access to a computer, you can call the store and place your order over the phone (416-233-3558). The transaction will be processed with your credit card over the phone. You can pick up at the store using our curbside pick-up option or we will ship it to your home via courier. Please see above for the cost of home delivery.
Please note we only have one phone line and it can get busy. If you call and it is busy please leave a message and we will return your call as soon as we can.
Email us your order and telephone number and we will call you as soon as we can to complete the order and payment. - email - [email protected]
Complete Store Product Availability
Any product we have in the store but not on-line can be purchased by a phone call to the store (416-233-3558) and will be charged to your credit card over the phone.
When placing an on-line order through MyWBU and there is a product you would like to add to your order that is not available on-line you can call the store and we will add the item/s to your order. The additional product value can be used to achieve free shipping charges in some areas.
Please note some exceptions apply. Any seed bag over 25 lb cannot be added to a Home Delivery via Courier All store products are available for curbside pick-up
Daily Savings Club BirdBucks
Due to the potential of Covid-19 being transmitted through all types of surfaces we will not be able to accept any paper based BirdBucks.
We will not be able to apply paper-based Bird Bucks to any order.
All orders will still generate club points and BirdBucks will be generated.
Paper BirdBucks will be given to you with your receipt. We do not use the expiry dates, your BirdBucks will not expire and will be valid for use as soon as we re-open for in-store shopping.
Electronic BirdBucks (BirdBucks generated through an on-line purchase) can still be redeemed on-line. (Note: paper BirdBucks cannot be redeemed on line)
Download a copy of our Curb Side Pick-up and Courier Delivery
Wild Birds Unlimited Toronto Email
If you would like to receive our exclusive WBU Toronto emails providing you with information on store events, sales and informative bird and nature related information sign up and receive our email - WBU Toronto Email.
---

Binoculars and Scopes Largest Selection Of Optics in the GTA
learn more

Exclusive Chickadee Nest Tube Based on Cornell Lab of Ornithology Nesting Studies
learn more