Nesting Preferences of the Black-capped Chickadee - A Citizen Science Opportunity
The History of How it Started at WBU Toronto
Black-capped Chickadees are cavity nesters. This means chickadees like to nest in the cavity of a tree. They prefer to excavate their own home but have been known to use old Downy Woodpecker cavities. When excavating their own home, chickadee's look for the soft location on a tree such as where a branch has fallen off a tree, often in dead alder or birch snags. They will nest in a suburban backyard, a rural park or in a natural forest.
We want them to nest in our backyards but we don't often have dead alder or birch snags as part of our habitat. We sell nest boxes sized for Black-capped Chickadees and we have always recommended the box be filled with wood chips to allow the chickadees to excavate their home. Unfortunately, success is not as common as we would like. We have always kept an eye out for any information that would help improve nesting success. In the late spring of 2014 we became aware of studies regarding Black-capped Chickadee nesting behaviour conducted by Cornell Lab of Ornithology in 2008. Kyle Holloway, our store manager, and myself were intrigued by the results. The results of the study indicated chickadee nest boxes made form PVC tube and filled with wood chips were the most successful. The study information can be viewed here - Cornell Chickadee Artificial Nest Box Summary and Cornell BirdScope Article On Chickadee Nest Tube. Based on the study these findings were significant:
Excavation by Chickadees - Nest Tubes filled with wood shavings - 60-70%; Nest Boxes filled with wood shavings - 40-50%
Initiated Nests by Chickadees - Nest Tubes filled with wood shavings - 25-30%; Nest Boxes filled with wood shavings - 15%
Note: Unfilled boxes (wood shavings) were used the least
Kyle constructed a number of PVC Chickadee nest tubes for testing. They were placed in yards early that summer. We did not have success, but we believed the nest tubes were installed too late in the season for a fair and accurate test.
We made sure we were ready with nest tubes for the spring of 2015. One nest tube was installed in Kyle's yard, his parents yard and we had one in our yard. A number of the PVC nest tubes were set-up in Algonquin Park. We had good success. Kyle had a Red-breasted Nuthatch nest in his tube and his parents had a Black-capped Chickadee nest in their tube. Fledging was successful for the the two nests. Our PVC nest tube was inspected by chickadees but never used. The Algonquin PVC nest tubes were excavated but no other details were available. The overall results were exciting. We decided to expand our local study for 2016.
Kyle has taken on the project of building PVC Chickadee nest tubes to sell in the store. We have developed two styles. One is designed to sit on top of a pole based on our Advanced Pole System and the second style uses two cable wraps to allow placement on an existing tree trunk or pole.
Download our original 2016 BirdTracks with more details on the Chickadee Nest Tube.
The Chickadee Nest Tube Today
Since 2016 we have continued to sell the Chickadee Nest Tube with continuing success. Feedback from customers tell us the success of existing nest tubes, they are used year after year. Customers who have installed a new Chickadee Nest Tube have had success. In 2018 I installed one the nest tubes in a local naturalized area along Lake Ontario and to our to our knowledge we had the first nesting success of House Wrens in our Chickadee Nest Tube. We have now confirmed nesting success for three native bird species: Black-capped Chickadee, Red-breasted Nuthatch and House Wren.
View our video of the Black-capped Chickadee and Red-breasted Nuthatch using the
Chickadee Nest Tube
.
Please join us in helping our local native birds find good nesting locations and installing one of our WBU Toronto exclusive PVC Chickadee Nest Tubes.
Chickadee Nest Tube Pole Set-up - $54.99 (includes APS mounting flange)
Chickadee Nest Tube Cable Ties Set-up - $49.99
This is a chance to take part in a local Citizen Science project. Come in and ask us about this exciting opportunity.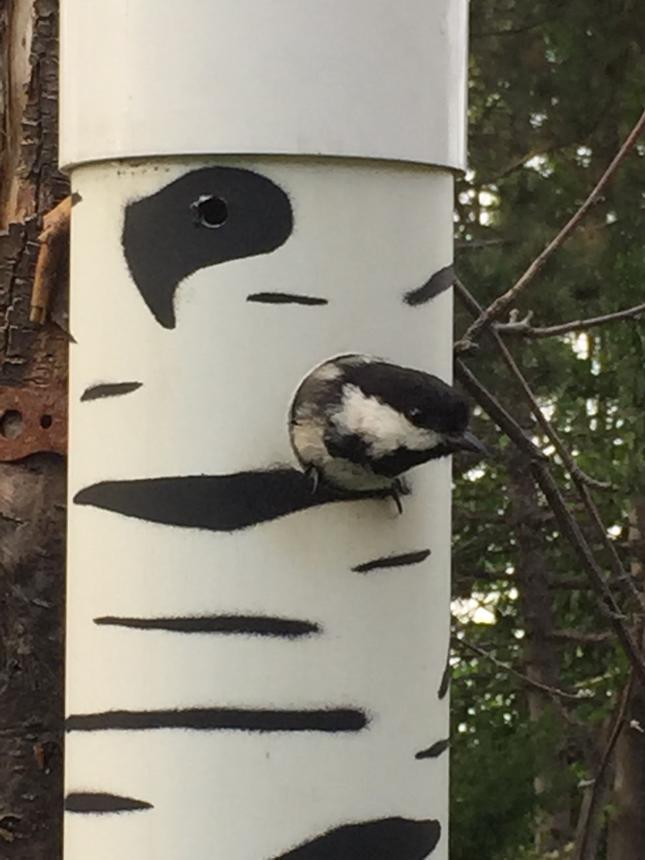 Receive our email
Sign up for email from Wild Birds Unlimited in Toronto. You will receive notice of store events and sales plus interesting and informative articles all about birds, bird feeding and nature. Please note, we consider your email as confidential and we will never share or sell your email.
Wild Birds Unlimited in Toronto Email