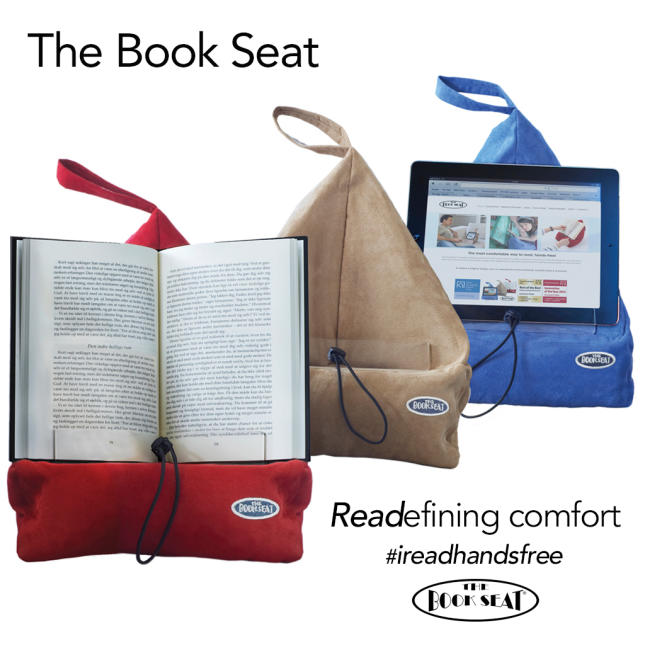 As we all do our do our best to stay in our own homes, yards and maintain our social distancing many of us find we have some extra free time. Time to catch up on reading, taking an on-line birding course, Skyping with families and friends or you may be working from home. But it can get uncormfortable. Introducing - The Book SeatYour hands-free binge buddy for books, iPads & eReaders!
The perfect reading support that holds a book open or a tablet computer in place for you while elevating text. Not only does it allow you to relax and read hands-free, its ergonomic design reduces discomfort associated with holding reading material.
No need to hold a heavy book or tablet PC for long periods.
With The Book Seat your hands are free to take notes, have a snack or simply relax
Elevating your text makes reading more comfortable and can help reduce strain on hands, arm and neck.
Clear acrylic page holder keeps your book open or your tablet computer in place.
Turning pages is easy by simply folding down the clear acrylic holder to allow enough clearance to turn the page.
Made from quality furniture grade micro-fibre fabric specifically selected for its texture and ease of cleaning. Most marks can be removed with a damp cloth.
Handy pocket for pens, reading glasses, a mobile phone or your favourite chocolate bar.
Convenient carry handle.
Tablet computers need not be removed from their covers to work perfectly well in The Book Seat.
The Book Seat's unique shape allows a book to be supported properly as well as providing a ventilation path when used with devices like an iPad.
This ventilation can assist in a tablet PC running at a cooler temperature compared to a product which may restrict airflow around the rear of a tablet device.
The foam bead filling of The Book Seat allows it to be placed on different types of surfaces.
The Book Seat is lightweight (< 250 grams) which makes it perfect to take on holiday or while travelling.
It will sit comfortably on your lap, in bed, on a table or the arm of a lounge chair. It will even support your book on the uneven surface of a sandy beach!
One other important aspect of the Book Seat company is their philosophy to support local communities, "The Book Seat proudly works with local assisted employment organisation BestPack in Ontario. Around the world we work with similar facilities who offer employment and support for people with physical and intellectual challenges." Locally The Book Seat is assembled thru Community Living Oakville.
Colours available - Beige (Buckskin), Earth (Brown), Sage (Green), Navy Blue, Dusty Rose (Pink), Aubergine (Purple), Turquoise, Melon (Orange).
We have a limited number of each colour in-stock. Please be prepared to have an alternate colour choice/s.
For more information and to view the colours please go to The Book Seat
Please note: to reduce the risk of the possible spread of Covid-19 no returns/refunds of the Book Seat will be accepted. Sorry for the inconvenience.
Cost - $49.99