Bird Food Sale
Now thru Saturday, July 18, 2020
Save 15% on:
Seed blends ∙ Seed types ∙ All bag sizes

suet

seed cylinders

mealworms

Jim's Birdacious Bark Butter Products
Club members receive an additional 5% off the Sale Price. Interested in saving 15% off bird food everyday, check out our Daily Savings Club
Better Seed and Birds = Better Value
Wild Birds Unlimited is dedicated to offering fresh, top-quality seed - the best in the market.
We believe your birds shouldn't have to search through the fillers contained in most discount seed blends to find the food that they actually want. More importantly, we believe you shouldn't have to pay for the fillers.
Our no-waste seed blends are made from 100% edible seed and have been selected to meet the regional and seasonal needs of the birds in our area. That means you only pay for fresh seed that will attract the kind of birds you want to see in your backyard.
So stop by the store this month for the best prices on the best bird food in town. You and your birds will enjoy our food more than what you might find at another store - we guarantee it.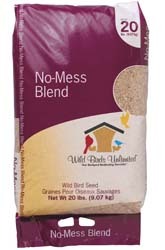 No Muss, No Fuss - No Mess Blend is our Number 1 selling blend
No shells. No mess. 100% edible. Our No-Mess Blend LM and NM CD blends are great near flower beds, patios and decks.
Our unique No-Mess Blend bird seed features seeds that have had their shells removed so only the meat of the seed is left. No hulls on the seeds makes for tidier feeding, since there's no debris on the ground to clean up. Pound for pound, our No-Mess Blend bird seed offers the best value because you do not pay for uneaten seed waste. The birds eat everything.
No Mess LM contains sunflower chips, peanuts and millet.
No Mess NM CD contains sunflower chips, chopped peanuts and calcium.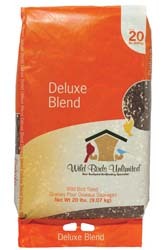 Deluxe Blend: Birds Simply Love It
Our Deluxe Blend attracts a wide variety of birds. It features oil sunflower, white millet, safflower and striped sunflower to create a multi-purpose blend that feeds birds at the feeder and on the ground.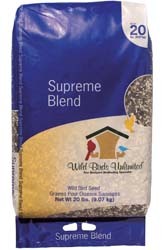 So Good, We Named It Supreme
Supreme Blend features black oil sunflower, sunflower chips, safflower and striped sunflower in a combination that helps attract a wide variety of birds, such as cardinals, chickadees and nuthatches.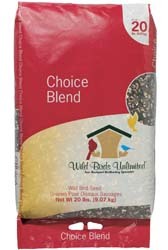 Lots of Oil = Lots of Birds
Our Choice Blend is a fantastic combination of high-oil content seeds. The black oil sunflower, sunflower chips, shelled peanuts, safflower and striped sunflower do a great job of attracting a variety of birds, including chickadees, woodpeckers, nuthatches and jays. Try offering Choice Blend in a hopper feeder, seed tube feeder or our Dinner Bell™ feeder, and add loads of fun to your backyard bird watching experience.
We also carry premium black oil sunflower, striped sunflower,sunflower chips, safflower, nyjer, roasted peanuts(in and out of the shell), white millet, wild finch blend and wildlife blend.
Let us help you pick the best seed for your birds in your yard!
Wild Birds Unlimited Toronto Email
If you would like to receive our exclusive WBU Toronto emails providing you with information on store events, sales and informative bird and nature related information sign up and receive our email - WBU Toronto Email.